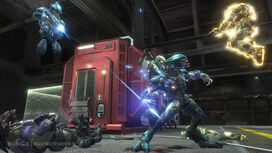 Brothers 2 The End is a clan that was formed in June of 2013. They are quite large and are divided into several squads, each with their own leader.
History
Many friends who enjoyed gaming together decided to form a clan with the goal or gaining recognition and becoming famous together.
What sets this clan apart from others is their brotherhood mentality  and what's interesting about them is that they seem to be online all the time. They also enjoy raids a bit too much and have been known to do three in one day.
Discrimination is not the way this clan rolls as they are not above placing a 10 year old in their clan.
Notable Members
XSleepyXLegacyX - Leader
Cl1nt3eastWood
Ad blocker interference detected!
Wikia is a free-to-use site that makes money from advertising. We have a modified experience for viewers using ad blockers

Wikia is not accessible if you've made further modifications. Remove the custom ad blocker rule(s) and the page will load as expected.